HiFiBerry DAC
HiFiBerry DAC
DAC stands for "digital-to-analogue converter". It is designed to convert digital audio data from your Raspberry Pi to an analogue output that you can connect to an external amplifier or receiver. HiFiBerry offers a broad range of DAC products – you should find something for every use case. All our sound cards are designed with audio quality in mind. All of our boards support not just CD quality audio (44.1kHz/16bit) but also high-resolution audio playback with 192kHz/24bit.
All boards shown here work with all Raspberry Pi's that are equipped with the 40-pin GPIO header.
Standalone DACs
DAC+ Light

Our Entry-level DAC. If you're looking for a good audio quality, but you don't need features like automatic configuration via HAT or hardware volume control and you're one a tight budget, this is the board to go with.


DAC+ Standard


The DAC+ feature offers automatic detection using an on-board EEPROM and hardware volume control. There is also a version available with a phone jack.


DAC+ Pro


You want more? Have a look at the DAC+ Pro. It comes with it's own clock source that provides a stable system clock that's independent form the Raspberry Pi. Many people prefer the DAC+ Pro.
DAC+ Pro XLR

This is bases on the same design as the DAC+ Pro. It uses a balanced output stage that is designed to drive even very long cables. It is a good choice if your amplifier offers balanced (XLR) inputs.
DAC2 HD

You're just looking for the best? Stay tuned for the DAC2 HD. Compared to our DAC+ Pro, the new DAC2 HD offer even lower distortions and even higher dynamic range. This is our top model. It also comes with the DSP header that allows to add the DSP module to have additional digital signal processing capabilities – directly on the hardware.
We're pretty sure it will beat most external DACs! You don't believe us? Just try it out – we offer a money-back-guarantee.
DACs with additional inputs
Sometimes you need not only playback capabilities, but you also want to record audio. For this use cases, your DAC+ ADC products combine our DAC+ with an additional high-resolution analog-to-digital converter (ADC).
DAC+ ADC

This board combines or DAC+ with an additional input. The input is designed to work with line-level inputs, but can also be used with dynamic microphones. It doesn't support electret microphones that require a power supply from the board. Input gain selecting is done using jumpers on the board.
DAC+ ADC Pro

This is a combination of the DAC+ Pro with an additional input. The input if more flexible than the one on the DAC+ ADC. You can configure the input gain via software (alsamixer), it can power electret microphones and there is even a balanced input (on an pin header, you need to use an adapter cable to use it with XLR plugs or 6.3mm phone connectors.
Special purpose DACs
DAC+ DSP

This board combines a powerful digital signal processor with a high-quality DAC output. Using HiFiBerryOS's integrated filter designer or SigmaStudio you can create equalisations, audio routings and many more.
DAC+ RTC

Designed specifically for OEM customers that require a real-time clock, the DAC+ RTC is a combination of on entry-level DAC with an on board battery-backup real-time clock. This means you can always use the correct time. We know that this is specifically important for systems that depend on the correct time but do not always have perfect internet connect
DAC+ Zero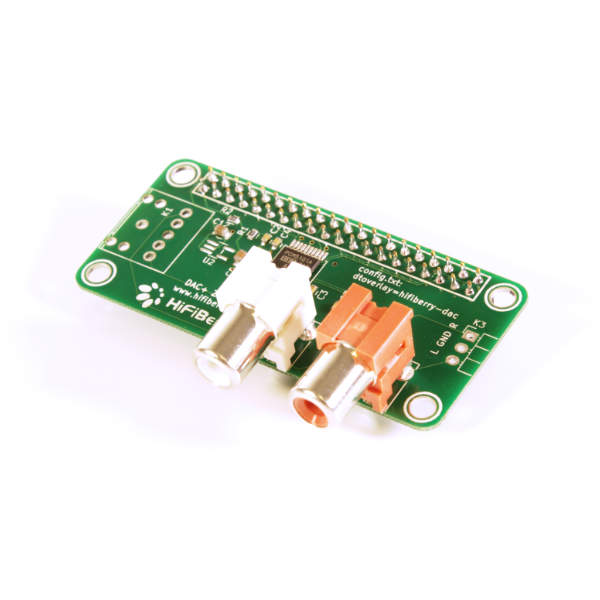 A simple, but inexpensive DAC for the Raspberry Pi Zero. It comes without features like HAT EEPROM or volume control, but still offers high-resolution audio at a very small size and a low price point-